South Fremont Junior High has been awarded the INL/BEA STEM Impact Grant! We submitted a plan to build a comprehensive makerspace in which students can learn to explore and build in student directed activities. Our makerspace will create an environment for open-ended natural creativity. Our students will also be able to practice critical thinking skills, challenge their imaginations, and come up with solutions to real-world problems. Makerspaces are really helpful for STEM-related activities. More importantly, makerspaces are safe places for students to "fail." At a time when test scores and getting the right answer often trump the process of learning, makerspaces allow students to learn by trial and error, improving with each attempt. Some exciting features of our future makerspace include: Media production, tinkering, circuitry, programming, graphic design, 3D printing, and a growing tower for life sciences. We are so grateful to the INL/BEA for this amazing opportunity and our ability to provide these experiences for our students.
https://www.youtube.com/watch?v=LpF2_Tqsnus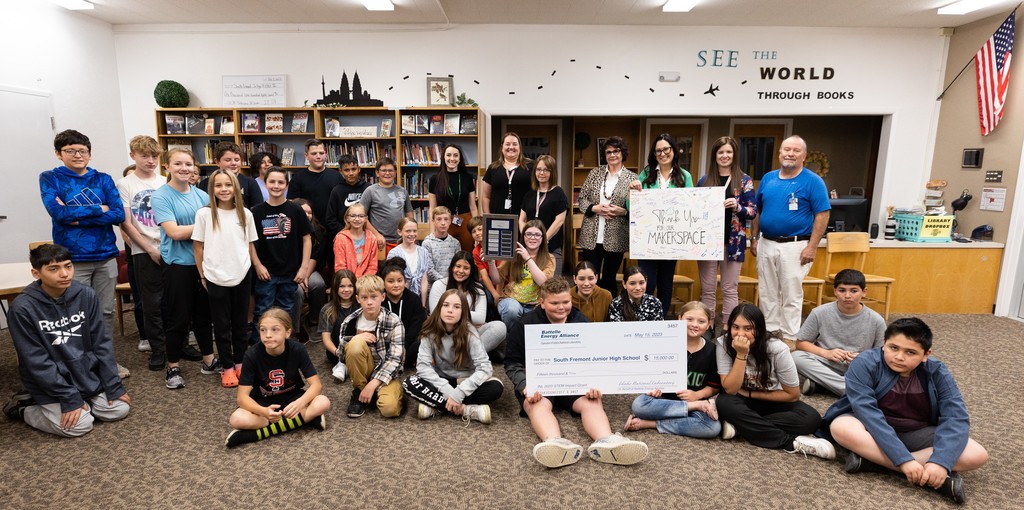 Summer Band Flyer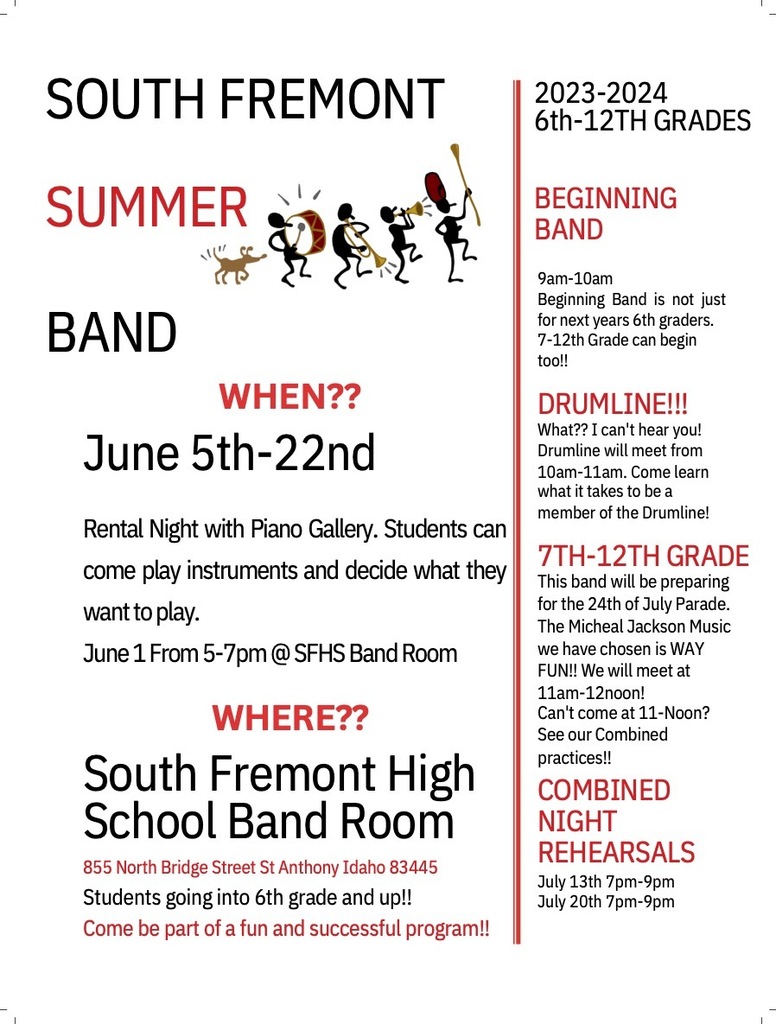 Girls Basketball Flyer

In World History, we are studying Chinese history. We have done some art projects to emphasize learning. Here are some Sand Mandalas that the kids did and some Terra Cotta Warriors that were done yesterday.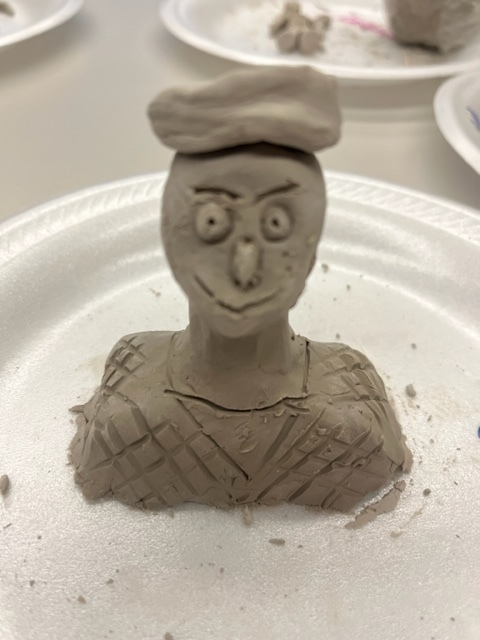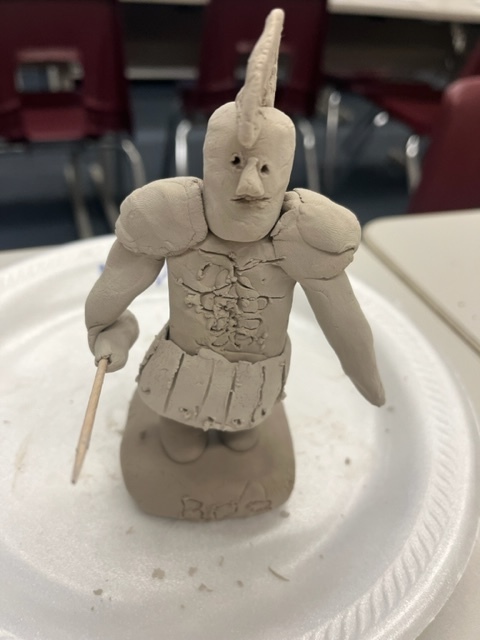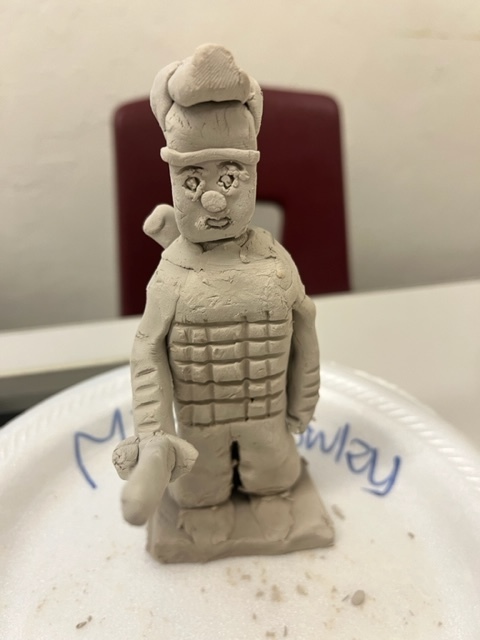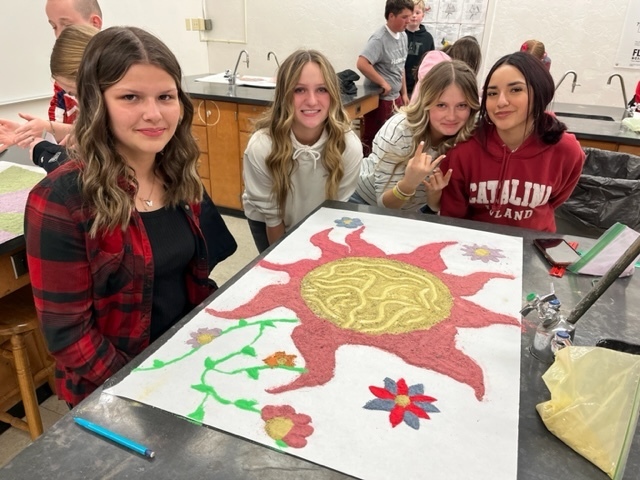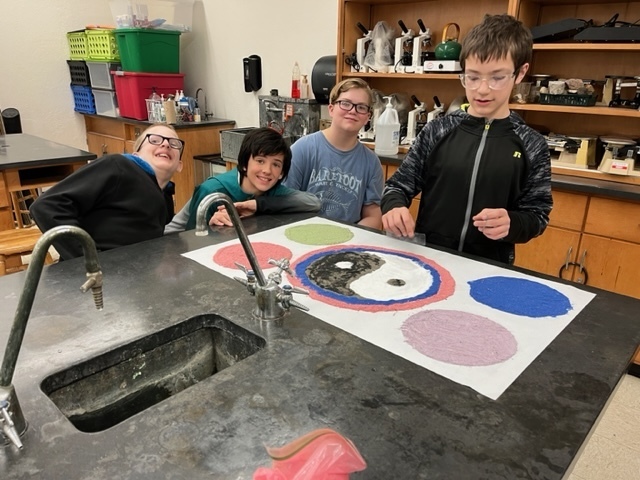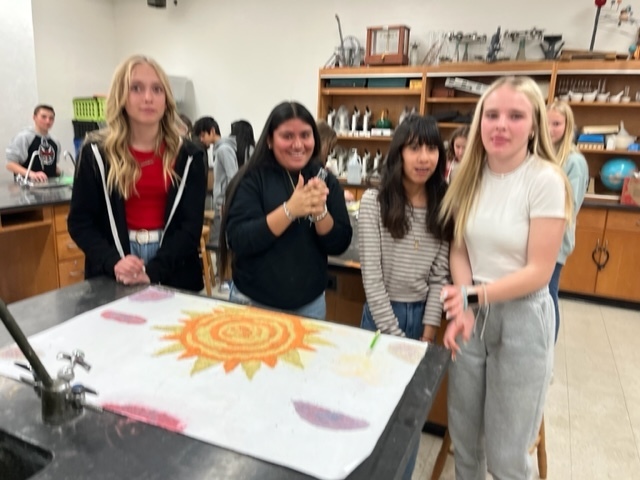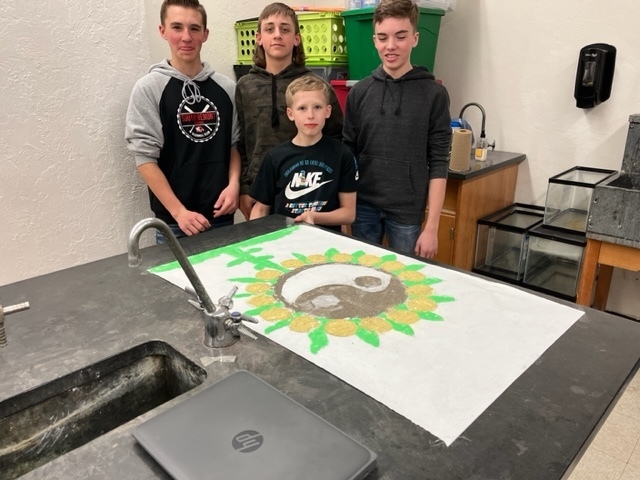 The South Fremont Archery team recently finished its season. The season began by welcoming 6 new coaches to our ranks who became certified in early January. They are Rachel Thomsen, Kyle Tuckett, Clint and Stacey Washburn, and Brett and Kasey Hull. Their skills were soon implemented as the archers began practicing about a week later. Over forty archers - representing the high school and junior high school - participated during the season. Many of those kids were new to archery and made great strides in their ability during the three months. We look forward to them being part of the team and continuing to improve next year. In early March, we once again held a fundraising tournament to benefit St. Jude's Children's Hospital. The kids raised well over $100.00 through pledges from family and friends. Those placing in the top 5 for the Cougar Invitational tournament held on April 24 were: Rookies Veterans 1st > Rylee Birch Breson Hull 2nd > Lewis Ethington Porter Washburn 3rd > Saneya Furniss Weston Jones 4th > Joshua Wood Kyren Hansen 5th > Emma Arnold Tavin Poll Fifteen of our archers qualified to compete in the Western Nationals held at the Mountain America Center in Sandy, Utah on April 29. This event plays host to hundreds of youth archers from throughout the United States. Congratulations on this accomplishment to: Sariah Wood, Aaliyah Dansie, Breson Hull, Jayden LeCheminant, Weston Jones,Tavin Poll, Seth Owens, Kaleb Mace, River Chase, Kyren Hansen, Lauren Argueta, Raena Birch, Kirahley Seare, Addison Tuckett and Emma Arnold. Each of these archers shot well at this tournament. We concluded our season by holding a novelty shoot on May 1 wherein the archers won prizes for hitting small designated targets. We appreciate the support and patience of the parents as we continue to work through the National Archery in the Schools Program's logistics and continue to build this program. We also greatly appreciate the support of our sponsors which allowed us to expand our archery range from eight lanes to twelve lanes and will enable us to continue to grow and provide more archery opportunities for the kids. The local businesses who are sponsoring our team are listed below. Please lend them your support when possible. 'Robinhood Sponsors' Carter Enterprises Pro Gro Big J's 'Bullseye Sponsors' Drs. Toenjes, Brizzee & Orme Henry's Fork Taxidermy C&C Supply High Country Glass Willow Creek Animal Hospital St. Anthony Motors Hamilton Realty Golds North Fork Roofing '9 - Ring Sponsors' Rexburg/St. Anthony Rehabilitation Farm Bureau Insurance/ Kyle Jeppesen & Kaysie Chase Allstate Machine Shop '8 - Ring Sponsors' Sassy Flowers Dusty's Pit Stop St. Anthony Ace Hardware Neil's and Joe's Les Schwab Tire/Rj's Exxon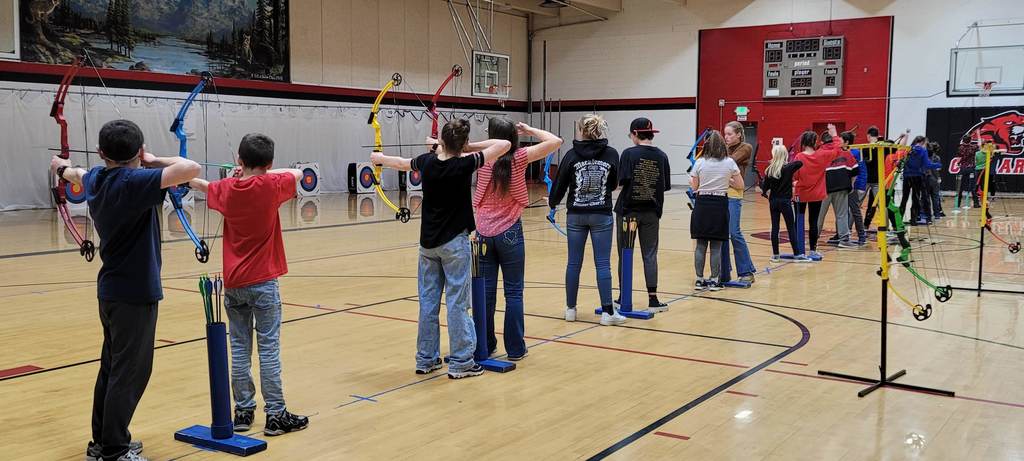 We really need to thank parents, our community, and especially our "Totally Rocking PTA". ISATs are going well. Parents, we are so happy you have encouraged the kids to do well on these tests. But look at the incredible ways that our PTA has encouraged these kids. For two days they have been here to give the kids a great breakfast just before testing started. So many kids were talking about it. They felt the encouragement and the desire to improve. The PTA was here feeding and talking to kids. What a great day! Thanks so much.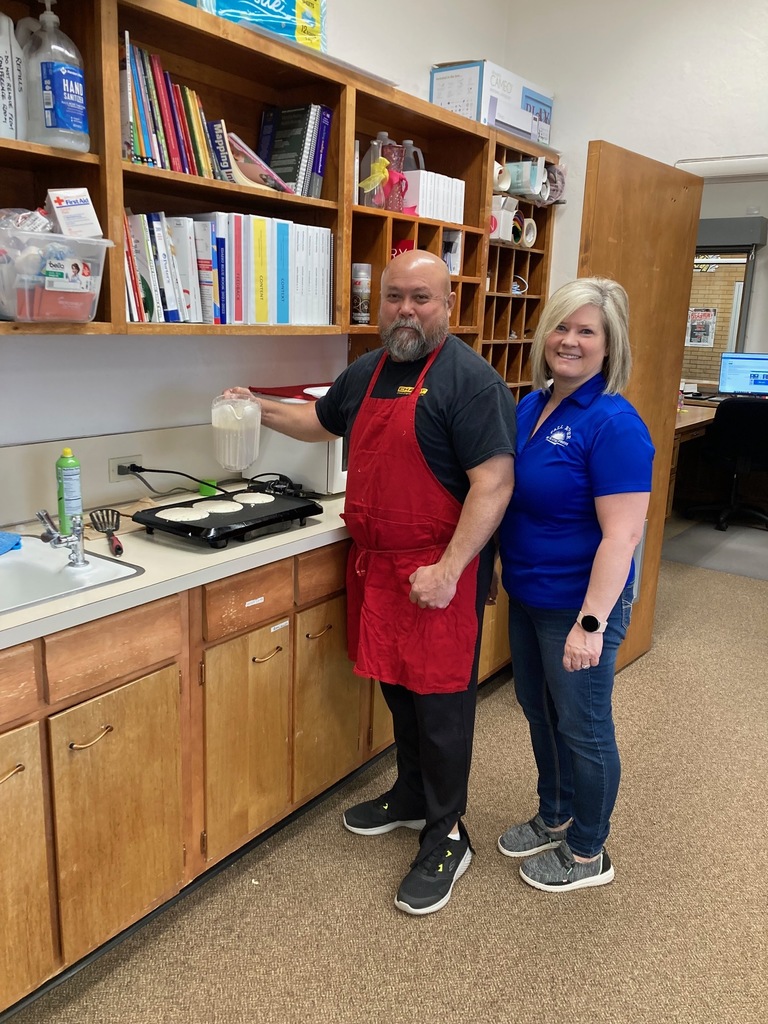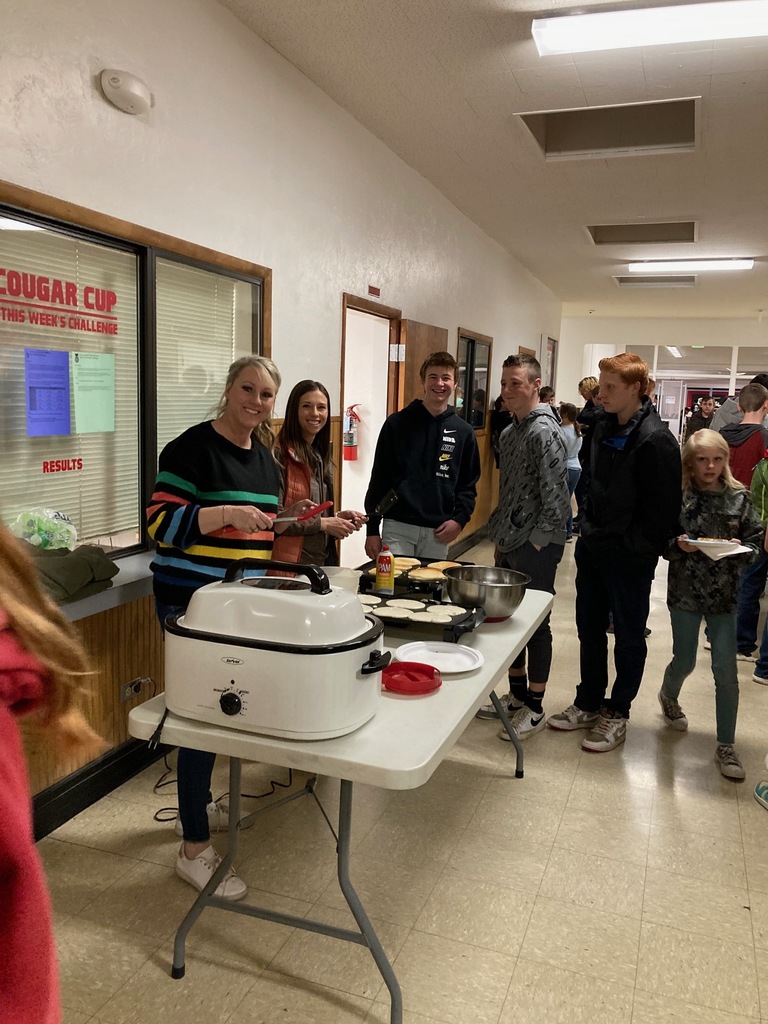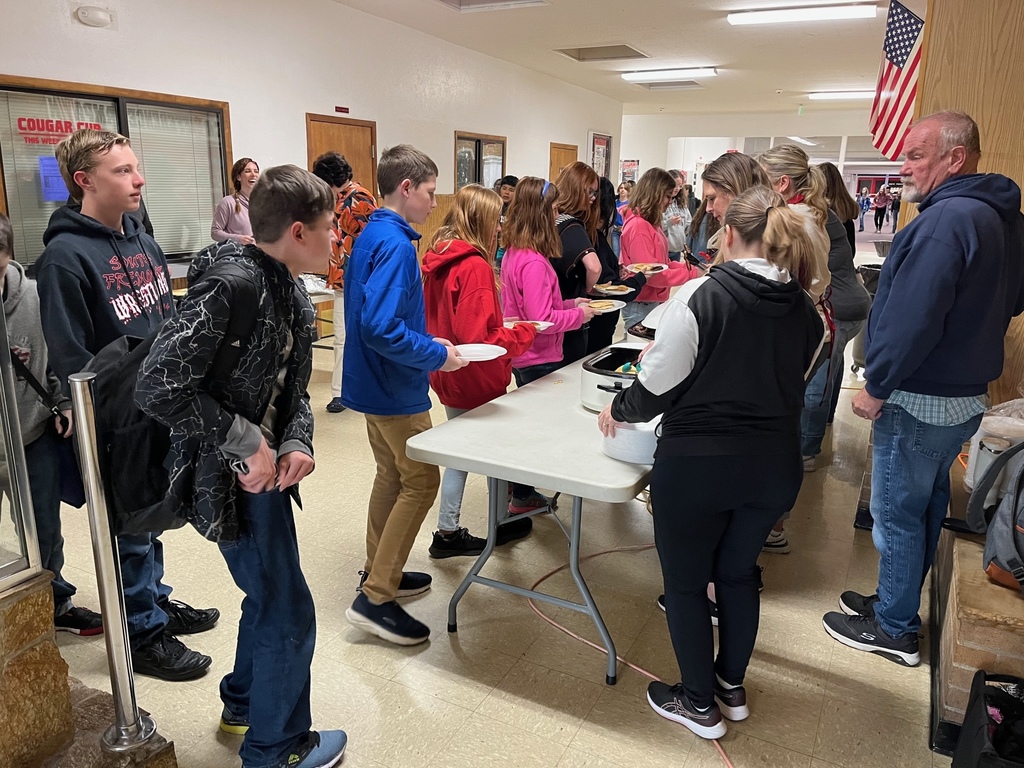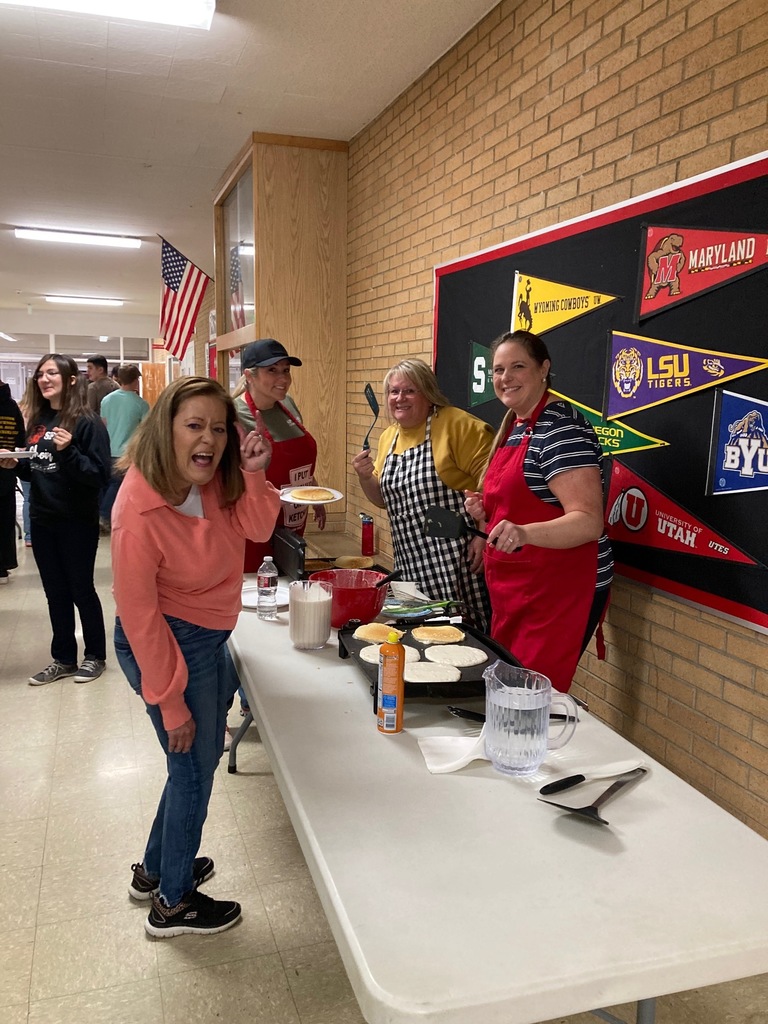 8th graders explored careers and local history for their field trip, visiting the Teton Flood Museum and Legacy Flight Museum in Rexburg and the Ashton Hydro facility in Ashton. Huge thank you to Tim Solomon of Pacificorp and Joe Stephan of the Legacy Flight Museum for hosting us!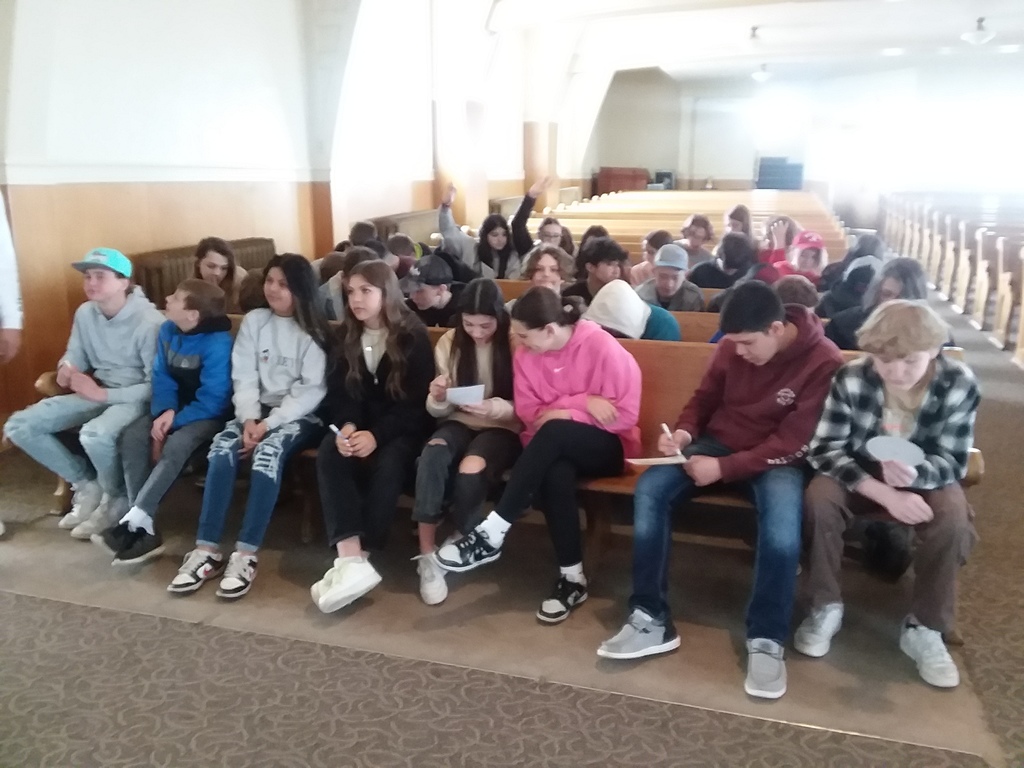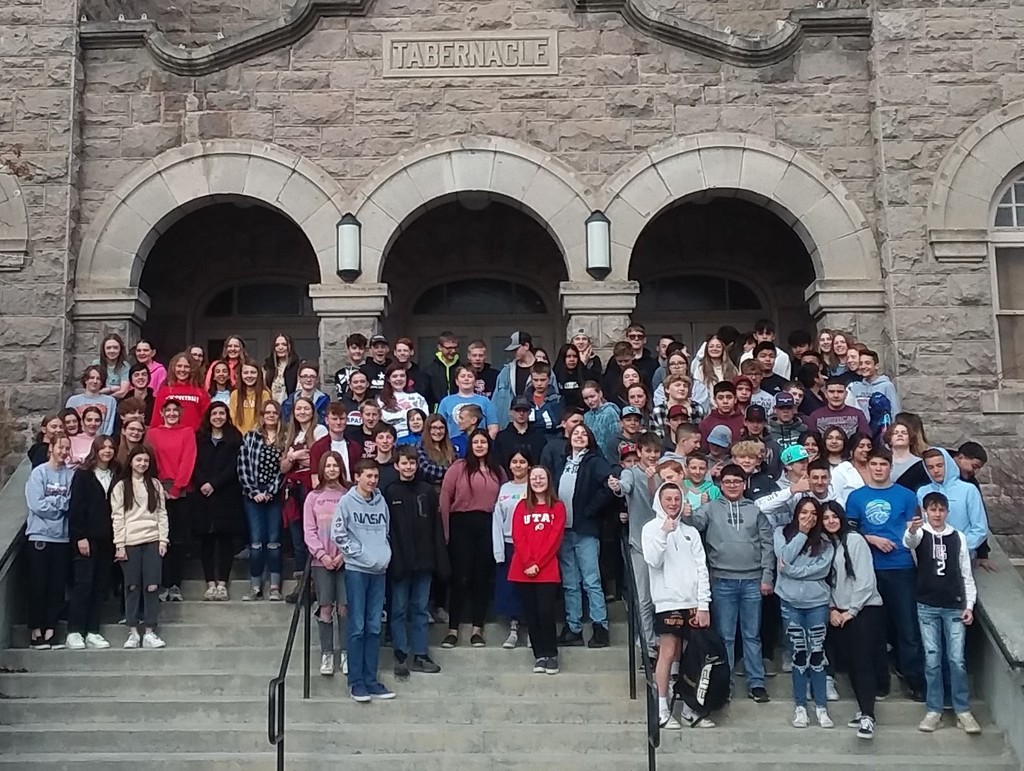 We want to thank our PTO for providing ISAT (State Testing) incentive prizes. Test Schedule. 2 1/2 hr. morning block Tuesday and Wednesday. Tuesday, April 25 ELA (English) Wednesday, April 26 Math Thursday, April 27 Make-up Friday, April 28 Make-up Monday, May 1 Science (8th only)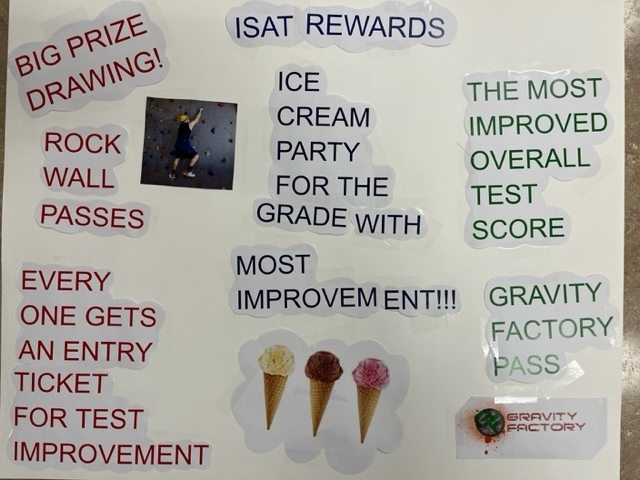 We want to thank the members of our parent group that brought the wonderful food and treats. It was fabulous. The week was long and hard, but the support really brightened our days. We also want to thank the parents that came on for Parent Teacher Conference. It was nice to see we are supported so well. Many thanks.

Due to Snowfall and highways being closed up north, Parents, please be aware that we have canceled the Junior High Dance this afternoon. It has been rescheduled for Friday the 24th.

Due to bad weather, the after school dance at SFJH has been rescheduled for March 24th at 2 pm.

The Cyber Security class went on a field trip to I.N.L. and I.S.U.'s extension in Idaho Falls. The learned a lot about I.N.L's Cyber Security program and the jobs available. Then they went and talked with professors and worked on computers at I.S.U. to understand what it takes to learn the profession. It was a fun educational day.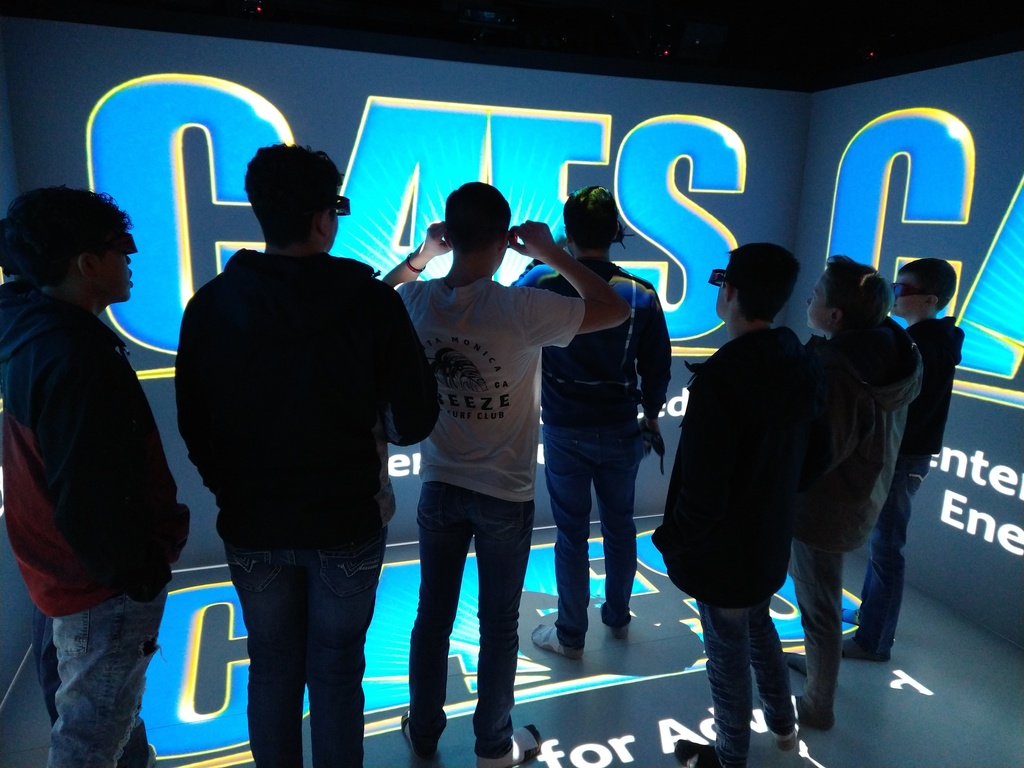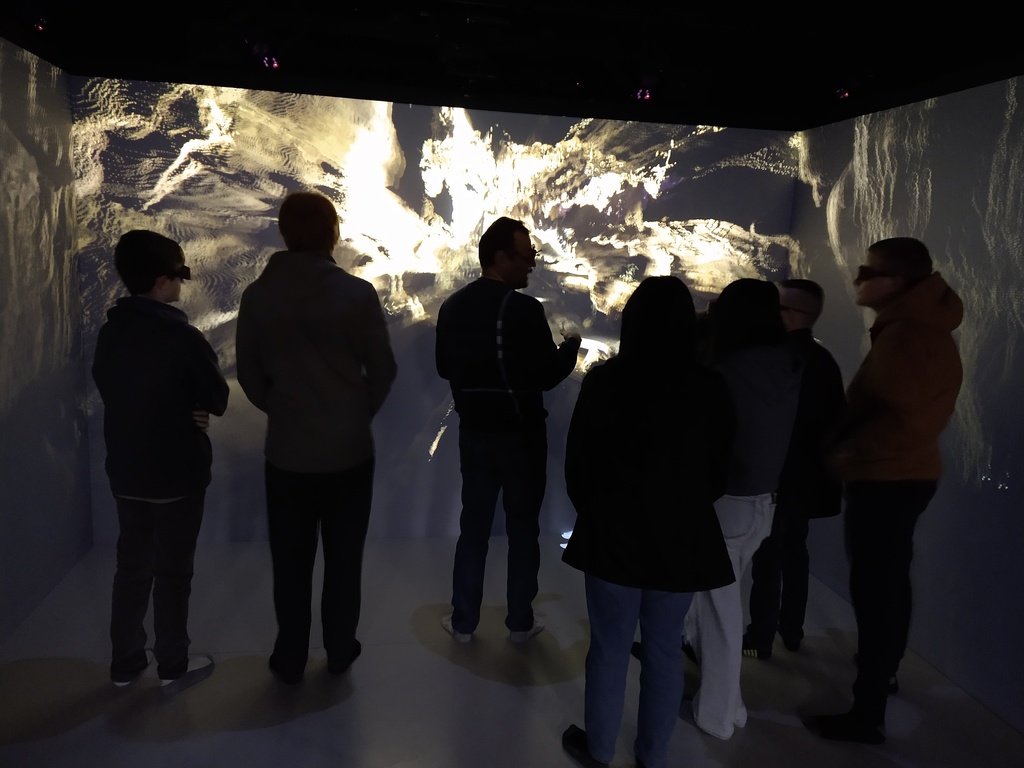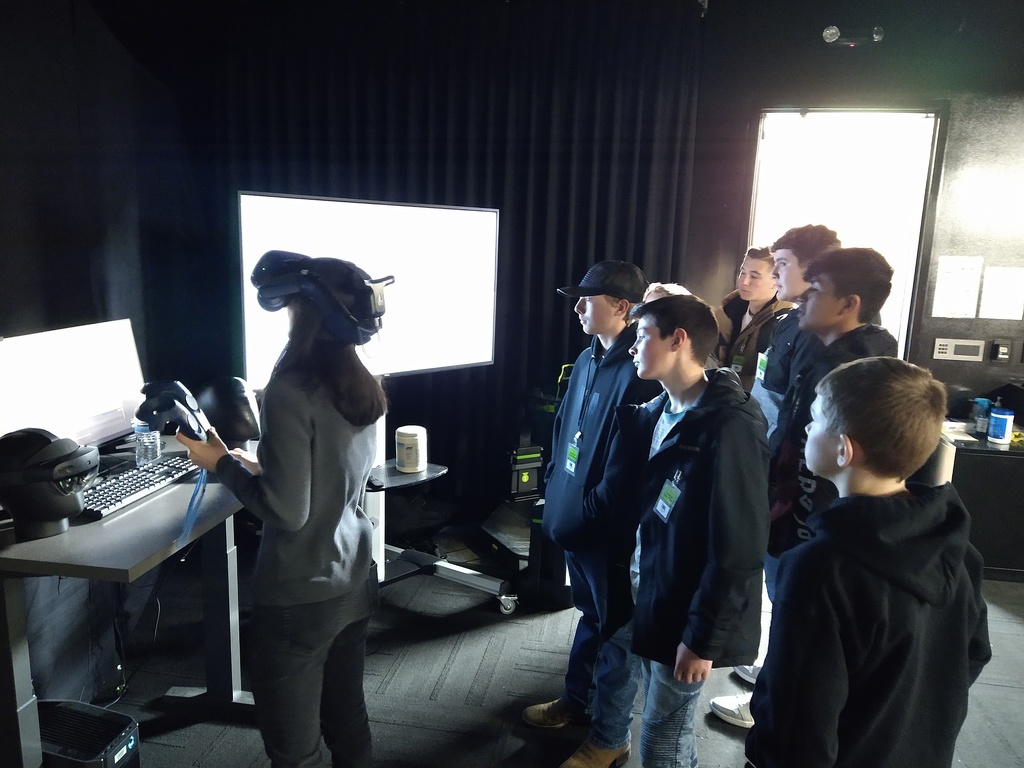 SCHOOL BOND ELECTION TODAY! It is election day. Patrons have the opportunity to vote on the proposed bond to update Ashton Elementary, South Fremont High School, and North Fremont JH/HS. Please take the opportunity to exercise your Constitutional right to vote.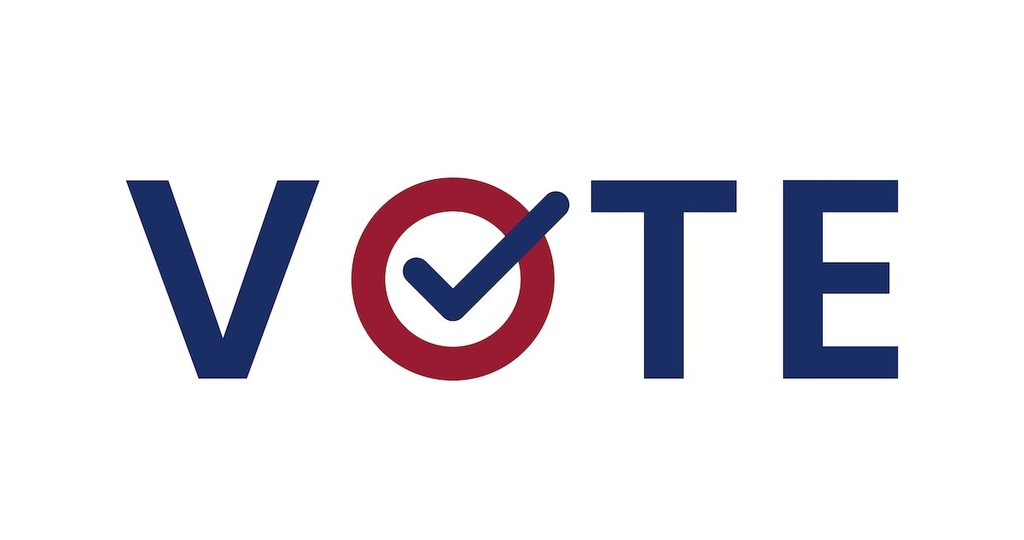 Today is the first day of our March Madness Book Tournament! We need our community's help to discover our favorite books and determine our 2023 champion! Contestants have been determined by the most circulated books in SFJH library and are listed in the video. 16 books have been randomly pitted against each other and our students and faculty are filling out their prediction brackets until voting begins on Thursday. If you'd like to join us in making predictions, you can download the bracket and see if you can determine the winner. Bracket:
https://drive.google.com/file/d/1UTDlHGQgnerEHDTPm-jc0lHRkJqnRKGX/view?usp=sharing
Voting begins this Thursday, so watch for the post with the link!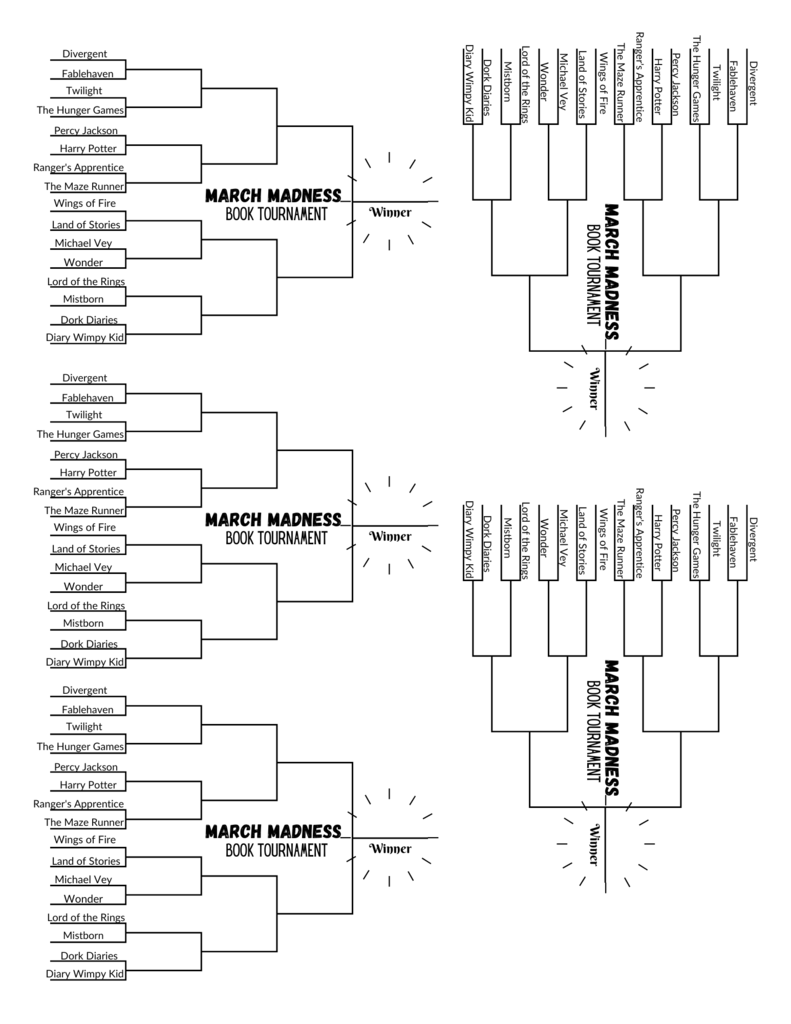 Parents, please be aware of the following: According to school board policy, each student must pass all of their core classes each semester in order to advance to the next grade level. To read this policy in its entirety, please visit the district website and reference policy 2605. Core classes include the following for each grade level: 6th Grade: English, Reading, Math, Science, Geography 7th Grade: English, Math, Life Science, World History 8th Grade: English, Math, Earth Science, US History Please also note that there WILL NOT be in-person summer school this year. Students who do not finish up current credit recovery course(s) and/or don't pass their second-semester classes will be enrolled into credit recovery courses through Imagine Edgenuity to be completed at home. Credit recovery will begin Tuesday, June 6th, and end on Friday, August 4th. If you have further questions please contact the school at (208) 624-7880. De acuerdo con la política del consejo escolar, cada estudiante debe de pasar todos sus clases principales cada semestre para poder avanzar al siguiente nivel del curso. Para leer esta política por entero, favor de visitar el sitio web del distrito escolar y de revisar la política 2605. Las clases principales incluyen las siguientes para cada nivel del curso: 6o Grado: 7o Grado: 8o Grado: Inglés Inglés Inglés Lectura Matemáticas Matemáticas Matemáticas Historia Universal Historia Estadounidense Ciencia Ciencias de la Vida Ciencias de la Tierra Geografía Tenga en cuenta también que no habrá escuela de verano en persona este año. Los estudiantes que no terminen la recuperación de créditos y/o no pasen sus clases del segundo semestre se inscribirán en cursos de recuperación de créditos a través de Imagine Edgenuity para completarlos en casa. La recuperación de crédito comenzará el martes 6 de junio y finalizará el viernes 4 de agosto. Si tiene más preguntas, comuníquese con la escuela al (208) 624-7880.

SCHOOL BOND ELECTION. Tomorrow is election day. Patrons have the opportunity to vote on the proposed bond to update Ashton Elementary, South Fremont High School, and North Fremont JH/HS. See the District website for full details or call the District Office (208-624-7542).

UPDATED BOND INFORMATION. During the community information meetings on the bond proposal, patrons asked the school district to post the updated municipal bond interest rates just prior to the bond election on March 14. Zion's Public Finance, Inc. sent an updated graph showing the interest rate trends for the past year from March 1, 2022 through March 7, 2023. They also included a slide showing a comparison between the interest rates from January (3.73%) and March 8 (3.83%). It shows how the change in rates would impact the overall tax impact per $100,000 of taxable value. This slide also shows the impact should the interest rate be 1% higher or 1% lower. As a reminder, the final interest rate if the bond is approved in March would not be locked in until the end of May. Thank you to all who have reached out to ask questions and learn more. These new slides and all other official information regarding the bond can be found on the district website (
https://www.sd215.net/o/sd215/page/2023-bond-election
). If you have any additional questions, please contact one of the Board members or the District Office.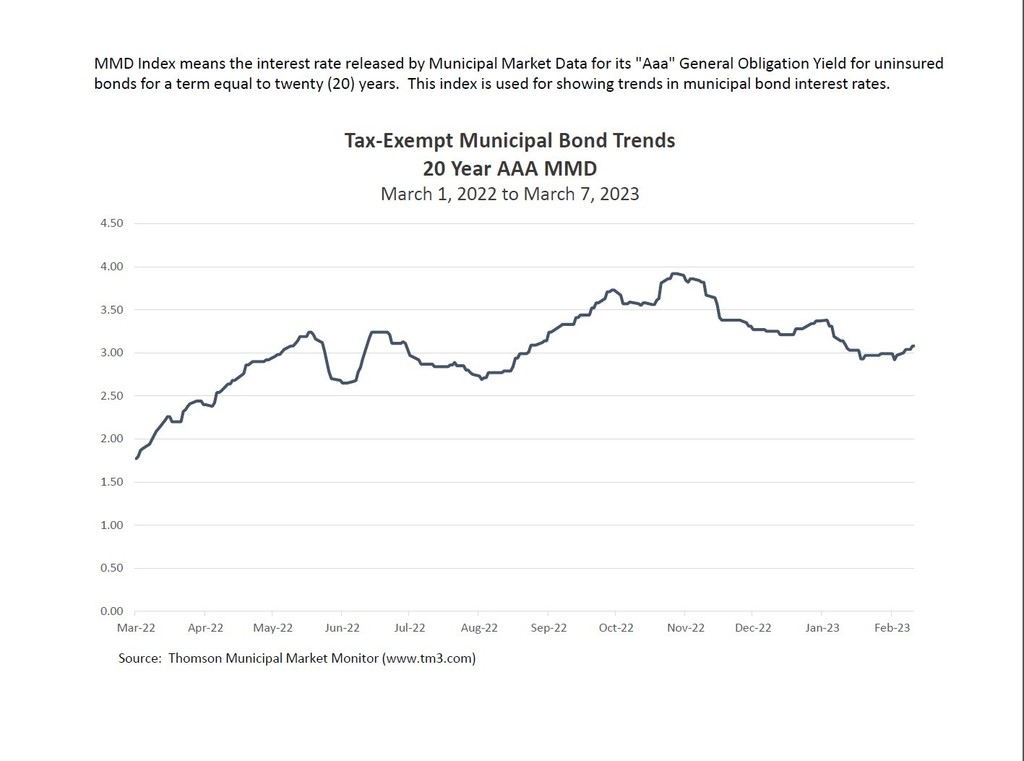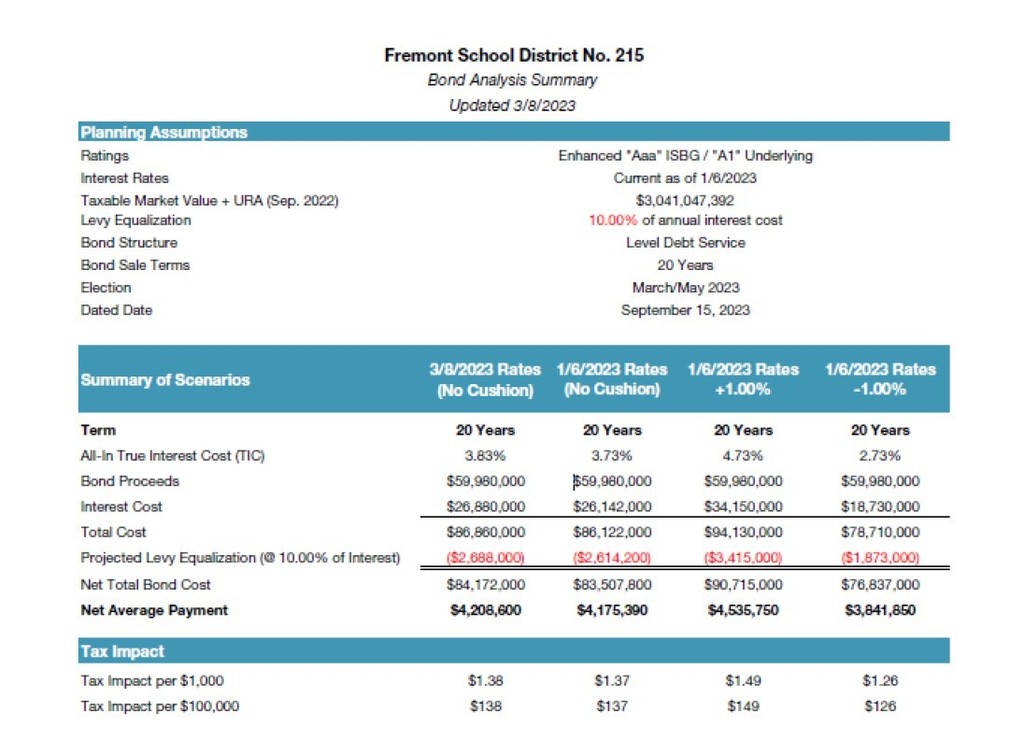 On Wednesday, March 15, at 9:00 am, SFJH will attend the State Champion Wrestling Banner Assembly at SFHS. Students will walk over to SFHS at 8:50.

South Fremont Junior High students present a magical musical based on the Award-Winning book Charlie and the Chocolate Factory by Roald Dahl on Friday, March 3 and Saturday, March 4th at 7:00 PM at the SFJH Auditorium!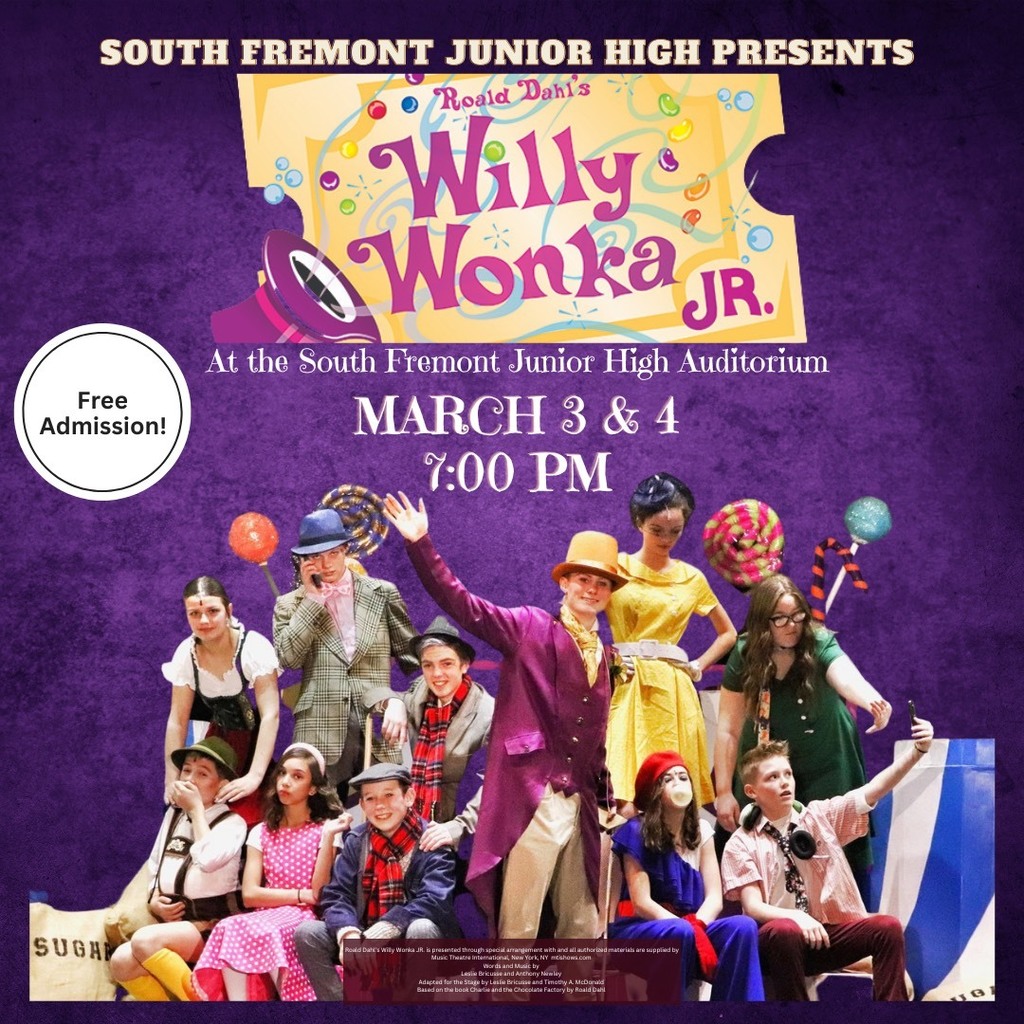 ALL SCHOOLS CLOSING. Road conditions on the south end of the district are getting worse. South buses have been called back to the schools to take students home as soon as possible. Parents make pick up students at any time. Students in town will be released when buses arrive. Contact your schools with questions.